We will be opening in mid-August 2012

NEW! for 2012: Starting soon we will have grilled Bratwurst and fresh grilled sweet corn both from local growers.

Due to a late freeze resulting in a very light crop, it is unlikely we will have pick your own on any varieties this season. There will still be plenty of opportunity to enjoy the orchard, gardens, pond and gazebo.

Please call for Variety Availability
507-663-1376

Early Blush

Zestar!

SweeTango

Chestnut Crab

HoneyCrisp

MacIntosh

Cortland

Sweet 16

Haralson

Fireside

SnowSweet

Regent

Prairie Spy

U of M 1622

Keepsake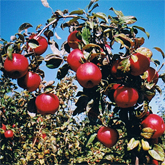 The Great Pumpkin Arises:
October 5